Posted by The City Cows Team on 26th Feb 2018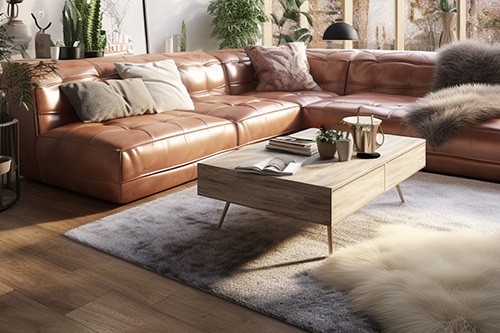 Colour is a very important element in any home. People want beautiful colour that helps them feel grounded and utterly happy all year long. They look for ways to bring harmony to their home. One way to help create a marvelous colour scheme in any home is through the use of color. Such is the case with the sheepskin rug. These elegant and lovely rugs allow people to bring subtle colors in their home. These rugs come in several colours that are commonly found in the nature world thus making it easy to use them as part of any color scheme. Colours like white, soft shades of brown and many varied neutral colours like champagne, oyster, slate grey and black help any room feel warmer and lovelier.

Using Colour


Sheepskin rugs come in many wonderful colours. Buyers can pick from colors of all kinds. A person might opt for a sheep rug in a colour like silver taupe or brown taupe. These neutral colours naturally work well with many other types of colours including white and yellows. Anyone can pick out a sheepskin rug in that kind of colour and then use it with other colorful elements such as soft brown floors for a look that is both modern and yet reminds people of classical styles. A sheepskin rug in a warm shade of softly understated brown or mellow white is also ideal in any room with brighter colours like blue and rug. It's easier than ever to use colour well in any room with a sheepskin rug as the focal point of the entire space.

Relaxing Spaces


Using a sheepskin rug allows any room to be filled with colour that is pleasing the eye. The warm and understated colour of the sheepskin rug is one that can pair nicely to create a space that is truly relaxing. This is why so many people have happily turned to such rugs and used them in their home. They know how easy it is to get a rug today that allows them to make any space have the right feel. They also know how easy it is to create a space that has the right use of colour.

A Coherent Vision


Everyone wants a vision in their home. People all look for ways to make any home show off their personal style. A sheepskin rug helps people create this vision. Such rugs are full of beautiful colour. They are also easy to use in any room in any home. In the living room, these rugs offer a pop of colour that shows off other items such as a couch to perfection. In the dining room, they help provide colour that reminds people of wonderful family dinners all year long. When used in other spaces such as the family room and bedrooms, they help create a coherent room with lots of soft colour that looks wonderful from every corner. Every homeowner can benefit from using these rugs in any room in their home.