Posted by The City Cows Team on 24th Apr 2018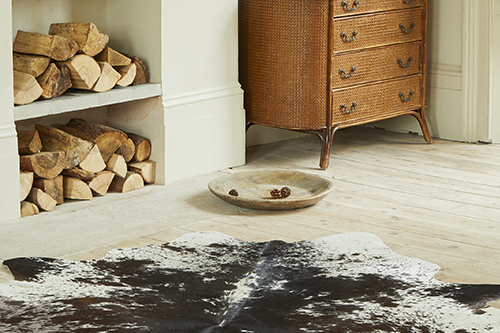 Very few things call to the soul more than nature. From a walk in the park on a snowy day to a swim in the warm waters of the ocean to watching the leaves turn as Autumn appears, the world is full of amazing sights. Given how much people love nature, it is no surprise that so many look for ways to use it as a source of inspiration when they decorate their homes. One area that can definitely benefit from a natural touch are the floors and walls. Nature based rugs such as cowhide rugs offer the chance to bring the outdoors world of nature indoors. These rugs are totally natural and make decorating with nature in mind simple, and highly effective.
Busy People

For today's busy modern couples, singles and parents, the operative words are often nature and natural beauty yet something that will stand up to lots of hard wear. This is where rugs made from cow hide can come in handy. While other rugs such as rugs made from certain types of wool require a lot of care, the same cannot be said of cowhide rugs. These rugs can withstand a great deal of heavy use over time. Even when people have young children, or a large family, these rugs will still look great no matter how many people sit on them or walk over them. Busy people do not want to spend a lot of time caring for their rugs. When people choose to purchase rugs made of cow hide they need not worry. Any owner can follow a few easy steps now and then and have a rug that will just great no matter how long they've had it.


Can Be Used Anywhere

In addition to bringing nature inside, these rugs also provide homeowners with many other benefits. Homeowners can place them on the home's sofa or chairs as well as on the floors. They can also be hung on the walls and used as amazing artwork. Such rugs are incredibly versatile. A single rug draped over the arm of a couch offers lots of drama. When the cowskin rug is used on a smaller chair such as rocking chair, the result is often highly impressive. This a great way to take any ordinary chair and transform it into an inviting place to sit. The same is true when the rug is used as an art object on the wall. A plain white wall nearly instantly becomes something far more interesting. The entire feels lit up with a sense of energy.


The Perfect Thing

Each object in any room will typically serve two purposes. Most people look for things are beautiful and yet items that are also functional at the same time. Such is the case with the lovely yet useful cow hide rug. These rugs are not only a great way to decorate and add lots of eye catching style. They're also a great asset to any room. The natural fibers add a delightful layer of insulation against the cold. This makes an ideal thing to use in rooms that may not otherwise get lots of warmth otherwise. Nothing is nicer than heading out of bed and finding the floor underneath the bed covered in a lovely, silky natural rug. Few things are more delicious that sitting on a lovely cowhide rug in front a roaring fire while a storm rages just outside the door.