Posted by The City Cows Team on 7th Jun 2018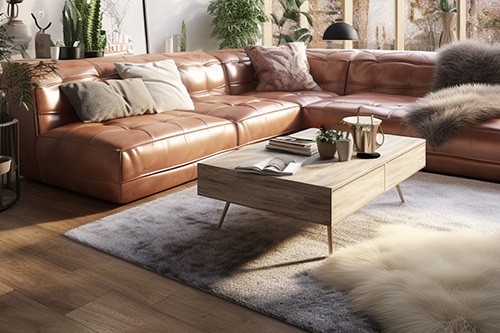 Have you been looking for the ideal way to bring a touch of nature into your home interior? Using potted plants is a common idea, but it may not help you to achieve the desired results that are well-suited for your space. Another idea is to purchase animal skin. A wide range of animal types can be used for this purpose, but a closer look at what sheepskin offers may reveal that this is the perfect material for you to bring into your home.
A Rich, Soft Texture
One of the challenges that many people face when decorating is bringing warmth into a space. For example, you may have a lovely office that has rich, decadent wood furnishings, but this space can seem cold and uninviting. Perhaps your living room is decorated with wood side and end tables and a leather sofa and chair. In these types of situations, the feature that is missing is a material that is soft with a natural richness that has irresistible appeal. Sheepskin is the ideal material to use in this scenario. If you have never felt brushed sheepskin, you may be surprised by how amazing and soft it can feel.


A Range of Sizes and Colours
When you think about sheepskin, you may think about a material that is intensely fluffy and that has a white or beige hue. While these neutral hues look great with many home decorating schemes, there are other more creative colour options available. For example, some sheepskin rugs have been dyed to create caramel, chocolate, light blue gray, black, rose, mulberry and many other colours of rugs. This means that you can find a sophisticated look that is perfect for use in your home office, a fun look that is ideal for use in your child's bedroom and more. Keep in mind that some sheepskin hides are sewn together. This gives you incredible flexibility to choose from a wide range of natural sheepskin rug sizes.


Several Thoughtful Uses
In addition to the creative variations of colours and sizes, there are also wonderful decorating ideas that you can consider. Depending on the size and colour that you select, you may use this material as a small rug near the foot of your bed, as a comfortable padding to the back of a wooden chair, as a soft throw over the sofa and more. It also can be used as a cover over the coffee table, as a stylish feature to cover a blank space on a wall and in other specialized areas. You can easily incorporate this versatile material into many areas of your home with fabulous results.

Decorating with sheepskin is not common, but it offers exceptional benefits. Because it is not a decorating approach that your friends and neighbors are taking, using this material in one or more rooms of your home means that your home décor will be uniquely your own. Check out some of the many gorgeous sheepskin rug colours available today as a first step in making your selection.