Posted by The City Cows Team on 9th May 2018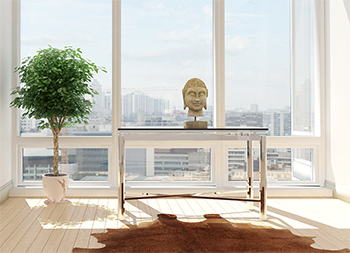 Rugs make a marvelous addition to any home. A well chosen rug can help make any room come alive with delightful texture and wonderful colour. One of the most popular forms of rugs are animal skin rugs. Homeowners appreciate rugs such as sheepskin rugs for many reasons. They know that a reindeer hide rug makes the ideal addition to any room. A rug of this kind offers many benefits including warmth, deep natural colour, versatility and the ability to buy something that is truly unique. Rugs such as a cowhide rug provide the homeowner with a rug that is also incredibly durable as well as really easy to keep clean all year long. Many decorators and homeowners understand that each room needs that wow factor. An animal skin rug can add just that.

Unique Markings

For homeowners, each room can tell a colour story. A cowhide rug can help with this aim. The soft browns, blacks and whites seen in each rug help a neutral colour pattern that is relaxing to the eye. Each reindeer hide rug also has a unique coat. This allows the homeowner to create a range of colour that is often subtle yet always immediately obvious. Rugs of this kind have markings that also help bring the amazing power of nature to life yet again. A rug that is made from an animal that is found in nature is rug that will bring to mind lovely experiences such as a walk in a tranquil forest or time spent hiking along a remote mountain peak.


Warm Texture

Another advantage of sheepskin rugs and other kinds of animal rugs is that such rugs have a great deal of warmth. Warmth help offer a nice place to relax when it's very cold outside. A warm rug can be placed in a baby's room so that baby and mother can enjoy a pleasant place to interact even if a heavy snowstorm is outside. These sorts of rugs also have lots of texture. Texture means that each rug has depth to it that immediately stands out when seen. Unlike some other objects that are relatively flat, these rugs have a three dimensional effects that can be seen from varied angles. The rugs allow any room to come alive. They instantly draw people to touch them and enjoy the elegant feel of the rug under their fingers.


Many Uses

Each rug can also be used in many ways. A homeowner can use them various types of flooring. Stone floors look especially good when paired with a rug that offers a wonderful contrast with the underlying texture of the stone. The same is true of wood flooring. Just like the typical animal skin rug, the typical animal rug has all sorts of colours. The rug, just like many types of flooring, also has lots of colour. This makes it a good choice in any space. A rug can also be used to cover up a flaw in the flooring and make the entire room look well planned out from top to bottom. Animal skin rugs are an excellent flooring choice.